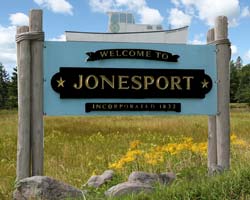 There is no other town named Jonesport in the entire U.S.

According to the 2000 U.S. Census, the primary occupation of 24.7% of Jonesport's population is "agriculture, forestry, fisheries [or] mining," compared to 10.9% of Washington County as a whole.

Depending on the season, Jonesport's fishermen harvest lobsters, scallops, mussels, clams, quahogs, sea urchins, crabs, bloodworms, periwinkles, sea cucumbers, and rockweed.

Jonesport's state-owned marina on Sawyer's Cove, built and maintained for recreational use, offers space for commercial fishermen to park their cars, trucks, and boat trailers, launch and haul boats, and load or unload gear or the day's catch on floats.

Although Jonesport was settled before the American Revolution, eastern Massachusetts didn't become the State of Maine until 1820. Twelve years later, the "Port of Jonesboro" became Jonesport.

In the War of Independence, a sloop belonging to John C. Jones was lost when the British besieged Castine (Maine). As compensation, the Massachusetts state legislature granted him a large tract of land that included what later became Jonesboro and Jonesport.
Visit our History of Jonesport page for more facts.
Town Statistics & Data
Census Information (2010)
Population: 1370
Median age: (years) 49.0
Households: 599
Average household size: 2.23