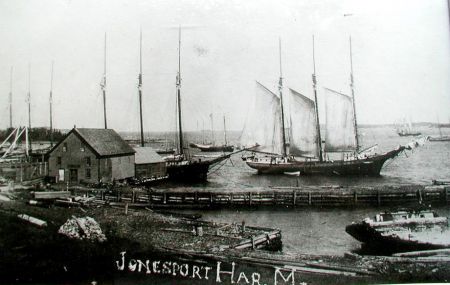 The site where the existing marina and proposed expansion are located was in commercial use from Jonesport's earliest days. Old photos show that the area where the marina is now was built out and bulkheaded.
In 1853 the first steamboat, Rockland, began service up and down the Maine coast. As this form of travel and shipping became more prevalent, Jonesport began to establish itself as a trading center for fishermen and the outlying islands. Sea captains built their homes here, finding it a good port on the downeast route from Boston to Canada. Ships from Jonesport sailed worldwide, and many of today's families count among their forebears captains or crew members who lost their lives on the high seas. The town provided not only the seamen for the ocean voyages but also the goods needed. Early mercantile stores on the harborfront were operated by D.J. & E.M. Sawyer and B.B. Mansfield.
The Mansfield Store, originally built about 1880, housed the telegraph office, a general store, and a ship's chandlery. Most recently it was a B&B known as the Harbor House.
Initially known for a cod and herring fishery that sold its smoked, dried, or heavily salted catch throughout the eastern U.S., Jonesport developed a valuable new resource in live lobsters, transported down the coast in smacks with wet wells. For nearly a hundred years, starting around 1875, demand for cheap, nonperishable protein also kept herring fishermen actively seining and their wives packing fish in three bustling sardine canneries on the waterfront. Today Jonesport is one of New England's busiest lobstering ports, while also serving national and international markets for scallops, mussels, clams, quahogs, sea urchins, crabs, bloodworms, periwinkles, and sea cucumbers. Our town even gave its name to the pickup truck of the sea—the renowned sea-kindly "Jonesporter" style lobster boat.
Jonesporters have always fiercely defended their independent way of life. For example, in March 1814 a British privateer, Vim, chased an American revenue cutter commanded by Capt. Elliott of Machias into Jonesport. The privateer fired several shots at the revenue cutter, and Capt. Elliott had to run his ship aground in Sawyer's Cove to keep his men from being captured. The British had launched a barge to take the cutter as a prize when citizens on the shore opened fire with their flintlock muskets. The Limeys in the barge had no choice but to surrender. A deal was struck with the British captain, who agreed to leave if his men were returned. Frames of the revenue cutter can still be seen in the mud at low tide at the head of Sawyer's Cove.